Summer school on modelling and complex systems 2022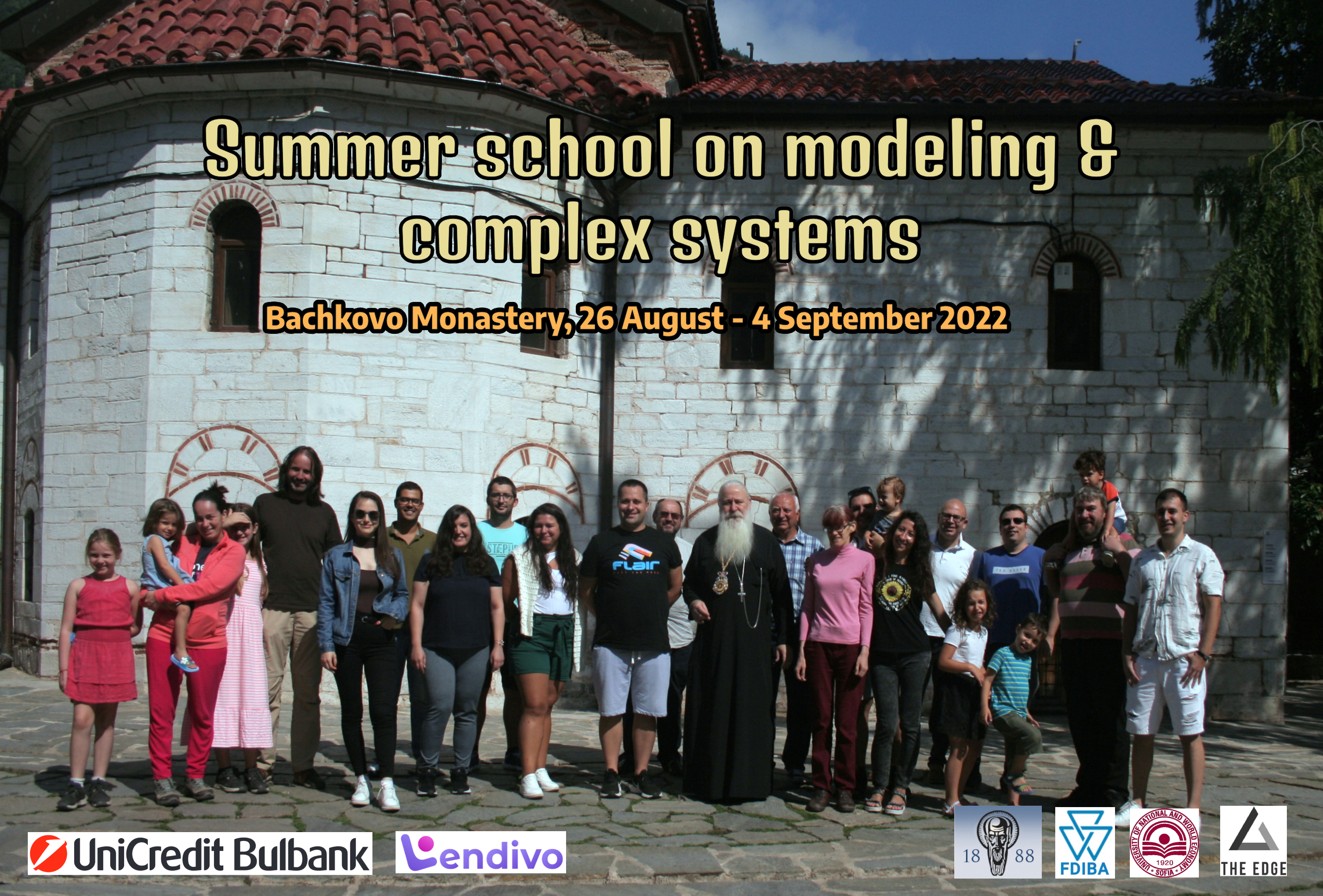 Organized by Partners Associate Partners
Application
Acknowledgement: This Summer school is partially funded by Science and research Fund at Sofia University (contract 80-10-126-16.05.2022).
Location: Bachkovo Monastery, Plovdiv Region, Bulgaria
Time: August 26 - September 04, 2022
Target audience: PhD students in their first 18 months and advanced graduates (master students).
Official language: For written materials - Bulgarian or English, for lectures - Bulgarian.
Application: EXTENDED Deadline for student application is July 20, 2022 by filling-in this application form: https://forms.gle/r1RAMQjYJqWaWDib9.
Only some applications would be approved, who will be notified by e-mail on July 25 and will recieve further instructions.
Participation in the Summer school is free of charge.
Main objectives
Creating an attitude for studying and applying scientific methods in research.
Winning the hearts and minds of learners to apply the scientific method.
Permanent change of students' attitudes.
Upgrading the knowledge and skills for scientific work
Concept: Intensive training in methods (not so much applications) through lectures, workshops and team work on projects.
Accomodation
Travel: The trip is up to the participants to organize on their own (while some coordination effort will be done for optimizing the travel organization. Everyone should arrive by 18:30, on 26 August, Friday, at the main entrance of the Monastery.
Accommodation: The students are accommodated in pairs / threes / fours in a room in the Monestery. Accomodation costs BGN 40 per bed per night. Out of which 85% is covered by the organizers. The layout of the rooms will be set by the organizers and can not be changed.
Meals: Meals are up to participants to organize on their own. There are at least 3 major restaurants and a grocery store in the near vicinity.
Daily schedule:
09:30 - 13:00 Lectures in the classroom
13:00 - 14:00 Lunch brеak
14:00 - 17:00 Workshops in the classroom
After 17:00 working on team assignment'
20:00 Monastery doors close
'The classroom could be used untill late, but no loud noises permitted.
Certification
Cases: As part of the Summer school the participants would have to solve and present a case, out of several options, which will be given on the first day.
Certification: Certificates issued by Faculty of Economics and Business Administration will be issued to those who successfully pass the Summer school in a special cerempny after the end of the Summer school. The requirements are:
1) at least 70% active participation in the classes
2) participation in a team with a presented solution at the end
3) Presented paper at a conference or seminar, showcasing knowledge and skills educated throughout the Summer school.
Note: Participants who cannot take part fulltime and/or would not comply with the requirements can also join classes, but will not receive a certificate.
Technical requirements
Apart from concentrating during the classes, the aproved participants should make sure to be equipped with a personal computer (not mobile device) installed with:
Facebook group: https://www.facebook.com/groups/223483361788013/
Organizer: Faculty of Economics and Business administration, Sofia University. In partnership with Faculty of German Engineering Education and Industrial Management, Technical University - Sofia, University of National and World Econmy, and Lendivo. For questions: angel.marchev@feb.uni-sofia.bg
Lecturers:
Angel Marchev Jr. (angel.marchev@feb.uni-sofia.bg)
Angel Marchev Sr. (angel_marchev@yahoo.co.uk)
Alexander Efremov (aefremov@gmail.com)
Boryana Pelova (bpelova@gmail.com)
Boyan Markov (boyanmarkov@gmail.com)
Demir Tonchev (tonchev.demir@gmail.com)
Georgi Kirov (geo.kirov@gmail.com)
Kaloyan Haralampiev (k_haralampiev@hotmail.com)
Mihail Motzev (Mihail.Motzev@wallawalla.edu)
Pavel Nikolov (pavelnnikolov@gmail.com)
Pavel Tsankov (p_tsankov@yahoo.fr)
Petar Nikolov (petarnikolov1989@gmail.com)
Petko Ruskov (petkor@fmi.uni-sofia.bg)
Stanimir Kabaivanov (stanimir.kabaivanov@gmail.com)
Archives:
Summer School on Research Methods 2020
Summer School on Modeling and Complex Systems 2021
Cases
The cases for this year's Summer school are revieled here… at the start of the Summer school.
Programme
(subject to change)
2022-08-26 Openning
before 18:30 Accomodation
18:30 - 19:30 Organizational issues
19:30 - 21:00 Networking exercise
2022-08-27 Fundamentals
09:30 - 13:00 Opening session: Angel Marchev, Sr. - The scientific method & General Systems Theory: a systematic approach to research (Video Conference)
14:00 - 17:00 Workshop: Boyan Markov - Introduction to Python & Jupyter notebook materials
17:00 - 19:30 Workshop: Explaining the cases
2022-08-28 Fundamentals
09:30 - 13:00 Angel Marchev, Sr. - Cybernetics studying complex systems with feedback (Video Conference)
14:00 - 17:00 Workshop: Angel Marchev, Jr. - Introduction to R & R Studio materials
17:00 - 19:30 Workshop: Teamwork on case assignments
2022-08-29 Fundamentals
09:30 - 10:30 Demir Tonchev - Introduction to probability
11:00 - 13:00 Kaloyan Haralampiev - Bayesian paradigm materials
14:00 - 17:00 Workshop: Demir Tonchev - Introduction to Bayesian modeling materials
17:00 - 19:30 Workshop: Teamwork on case assignments
2022-08-30 Fundamentals
09:30 - 13:00 Alexander Efremov, Kaloyan Haralampiev - Data mining: methods & main tasks
14:00 - 17:00 Workshop: Kaloyan Haralampiev - Introduction to Orange materials
17:00 - 19:30 Workshop: Teamwork on case assignments
2022-08-31 Machine Learning concepts
09:30 - 11:00 Alexander Efremov - Introduction to numerical optimization materials
11:30 - 13:00 Workshop: Alexander Efremov - Approaches for variable selection materials
14:00 - 17:00 Workshop: Georgi Kirov - Heuristics for practical linear convex and nonconvex optimization (online) materials
17:30 - 19:30 Workshop: Teamwork on case assignments
2022-09-01 Time series
09:30 - 11:00 Boryana Pelova - Time series basics materials
11:30 - 13:00 Boryana Pelova - Wavelet analysis materials
14:00 - 17:00 Peter Nikolov - Analytics workflow (Video Conference)
17:30 - 19:30 Workshop: Teamwork on case assignments
2022-09-02 Artificial Neural Networks
09:30 - 13:00 Stanimir Kabaivanov - Introduction to Artificial Neural Networks materials
14:00 - 15:30 Mihail Motzev - Statistical Learning Networks (Video Conference) materials
16:00 - 19:30 Workshop: Teamwork on case assignments
2022-09-03 Self-organmization & adaptation
09:30 - 13:00 Angel Marchev, Sr., Angel Marchev, Jr. - Multi-stage selection procedure and Self-organization
14:00 - 17:00 Pavel Nikolov - Evolutionary alghorithm for hyperparameter optimization materials
17:00 - 19:30 Workshop: Teamwork on case assignments
2022-09-04 Perspectives
09:00 - 09:30 - Checking out of the rooms
09:30 - 10:30 Pavel Tsankov - Exploring complex networks in finance using statistical methods
10:30 - 11:30 Petko Ruskov - Monetizing your research
12:00 - 12:45 A word from our partners: Unicredit Bulbank
12:45 - 13:30 A word from our partners: Lendivo
14:30 - 17:00 Conference - presentation of the solutions to the case assignments
17:00 - 17:30 Closing ceremony